Larry Rinker
Director of Instruction
The Ritz-Carlton Golf Club,
Orlando, Florida | October-May
Red Sky Golf Academy
Vail, Colorado | June-September
PGA Tour Veteran Member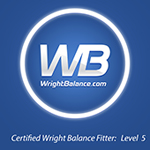 LARRY RINKER WORKS WITH YOUR GAME
1. Philosophy
I understand your problems and can "see" the simple changes you need to make to play your best golf in the ways that you can. I will customize your own personalized program, to help you achieve your goals, regardless of your golfing skill level. Rinker's 5 Fundamentals defines your strengths and weaknesses, and helps you to develop a road map for total game improvement. All golf instruction receives a complimentary copy of Rinker's 5 Fundamentals and is followed up with email V1 Video Reviews posted to your own V1 Online Locker. For information in regard to programs and pricing call or text me at 407-810-7489 or click Golf Instruction. My goal is to improve your game in the ways that you can!

2. Credentials
36 Year Veteran Member PGA TOUR
33 Year Member, PGA of America
• Qualified for the PGA TOUR in 1981, last spring qualifying school.
• PGA TOUR Q-School graduate four times: 1981-82-83-1996.
• Finished top 125 Money List 12 times, 1984-1993 and 1997-1998.
• Played in 525 PGA TOUR events with 283 career cuts.

Best Year: 1985
• Finished 30th on the final PGA TOUR Money List for the year.
• Won the J.C. Penney Mixed Team Classic with sister, Laurie Rinker.
• Tied for 2nd at the Bing Crosby National Pro-Am at Pebble Beach.
• Finished 3rd at the Players Championship and the Milwaukee Open.
• Led the TOUR in eagles with 14. Made 24 out of 30 cuts.
• Finished 19th in Ryder Cup points with six top tens in 1985.

Other Highlights
• Played in 7 U.S. Opens, 3 British Opens, 3 PGA's, 2 Masters & 13 Players.
• Best finishes in Majors; 1992 British Open, T-12th, 1982 U.S. Open, T-15th
• Led the TOUR in Putting Statistic in 1990. (Putts per greens in regulation)
• 16 career hole-in-ones, seven in PGA TOUR events.
• 1994, 1997 Player Advisory Council, PGA TOUR.
• 1980 Mini-Tour Player of the Year, Golfweek Magazine.
• 1978 Southeastern Conference Champion. All SEC 1978 and 1979.
• Doug Beldon Award (Most Outstanding Graduating Athlete, U. of Florida)
3. Instruction Programs
1-2-3 Hour Private Golf Lessons to 1-2-3 Day Golf Schools. Full Day Private Golf Lesson, Short Game Golf Schools, 1-2-3 Half Day Golf Schools, 1-2-3 Hour Group Golf Lessons, Putting Lessons, Junior Golf Lessons, Playing Lessons, and Corporate Outings. All Golf Instruction programs. 
Director of Instruction, The Ritz-Carlton Golf Club, Orlando near Walt Disney World, Sea World, and Universal Studios. October-May
Director of Instruction, Red Sky Golf Academy Wolcott, CO (Vail area) June-September
I would like to thank the PGA Tour membership along with Mike Skevington, Bob Toski, Peter Kostis, Phil Ritson, David Leadbetter, Jim McLean, Robert Baker, Mitchell Spearman, Dr. Bob Rotella, Dr. Richard Coop, Chuck Cook, Fred Shoemaker, Dr. Bob Winters, Stan Utley, Sean Foley, James Leitz, Ben Shear, David Orr, James Sieckmann, Dr. Rob Neal, Mike Adams, Dr. David Wright, Dr. Scott K. Lynn, and last but not least my family, my dad, Laine Jr., Lee, and Laurie for their help in making me the teacher that I am today. My philosophy is based on ALL my experiences with these great people.
"Larry is a rock solid golf instructor with the "eye" and
the experience to improve your game!"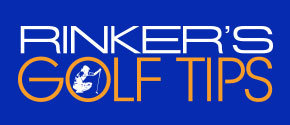 Saturdays / Sundays
9-10 am ET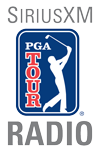 "Make this the year that you are going to play better golf!"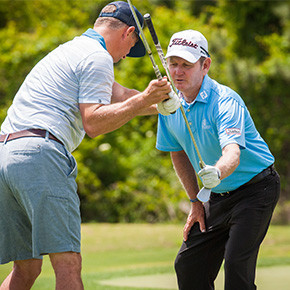 Schedule Your Private Golf Lesson Today!
Email Larry at LarryRinkerGolf@gmail.com or call or text him at 407-810-7489 to schedule a Private Golf Lesson or 1-2-3 Day Golf School with your friends.