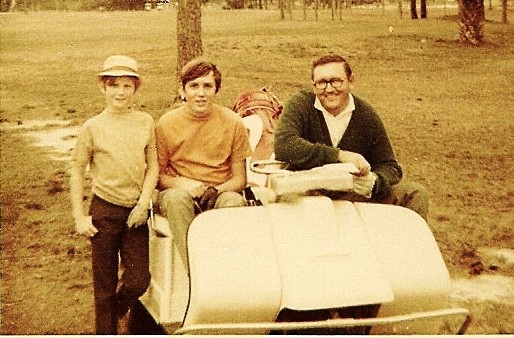 Larry Rinker
I was born and raised in Stuart, Florida as the second son of a flower farmer who had a real passion for golf. My dad didn't start playing golf until he was 24, but he inspired three children to go on and play golf on the highest level. We were considered Florida's first golf family. My dad was voted golf father of the year, in Golfweek magazine in 1986, after Laurie and I won the J.C. Penney Mixed Team Classic in 1985.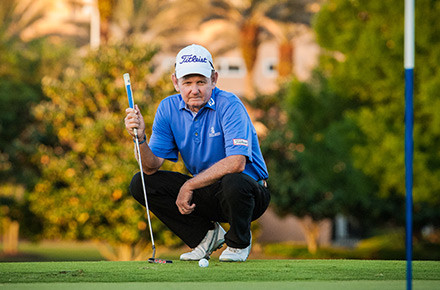 Larry, the Total Game Golf Instructor, Competitive Player Coach, Short Game Specialist
Director of Instruction at both The Ritz-Carlton Golf Club, Orlando October-May and at the Red Sky Golf Academy, Wolcott, Colorado (Vail area) June-September. Over 35 years of professional playing and teaching experience. For more information on Larry Rinker's programs and rates click on Golf Instruction.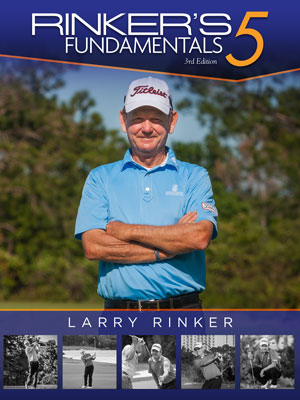 In March of 2017, I released "Rinker's 5 Fundamentals," 3rd Edition of my online interactive ebook (PDF format) with 11 hyperlinks to video lessons. The ebook has a major focus on the short game inside of 100 yards and is a great reference for all skill levels. It is also an in-depth manual for the competitive player who is aspiring to play golf on the highest level.
Module I. Putting: putt with intention, commitment, and confidence.
Module II. Short Game: chipping, pitching, and bunker play you can count on.
Module III. Distance Wedges: learn how to hit your wedges pin high.
Module IV. Golf Swing: strike it like a pro and drive the ball in the fairway.
Module V. Course Management: learn how to play, execute and run your routine.
Appendix I. Mental Weapons
Appendix II. Goal Setting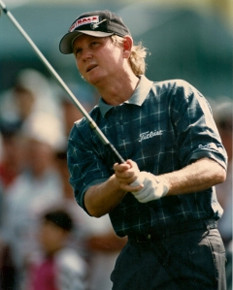 Larry, the pro golfer.
After graduating from the University of Florida in 1979 with a BSBA in Finance, I turned professional and started playing the mini-tours. In 1980 I won six tournaments and was voted mini-tour player of the year by Golfweek Magazine.
In 1981 I qualified for the TOUR at the last Spring School at Walt Disney World with Payne Stewart, Denis Watson, Clarence Rose and Mark Calcavecchia. We would play for the next year and a half Monday qualifying to get into tournaments. 1982 was the last year of the TOUR as we knew it. After finishing 132 on the money list I went back to the Q-School and re-qualified for the 1983 season, the first year of the all exempt TOUR.
In 1984 I finished second at New Orleans and finally made the top 125 finishing 60th on the money list, the "old standard" to be exempt before 1983. I would make the top 125 the next ten years and 12 times overall. My best year was 1985 when I finished 30th on the money list, had six top tens, and led the TOUR in eagles. I also led the TOUR in putting in 1990. I have 525 PGA TOUR starts with 283 made cuts.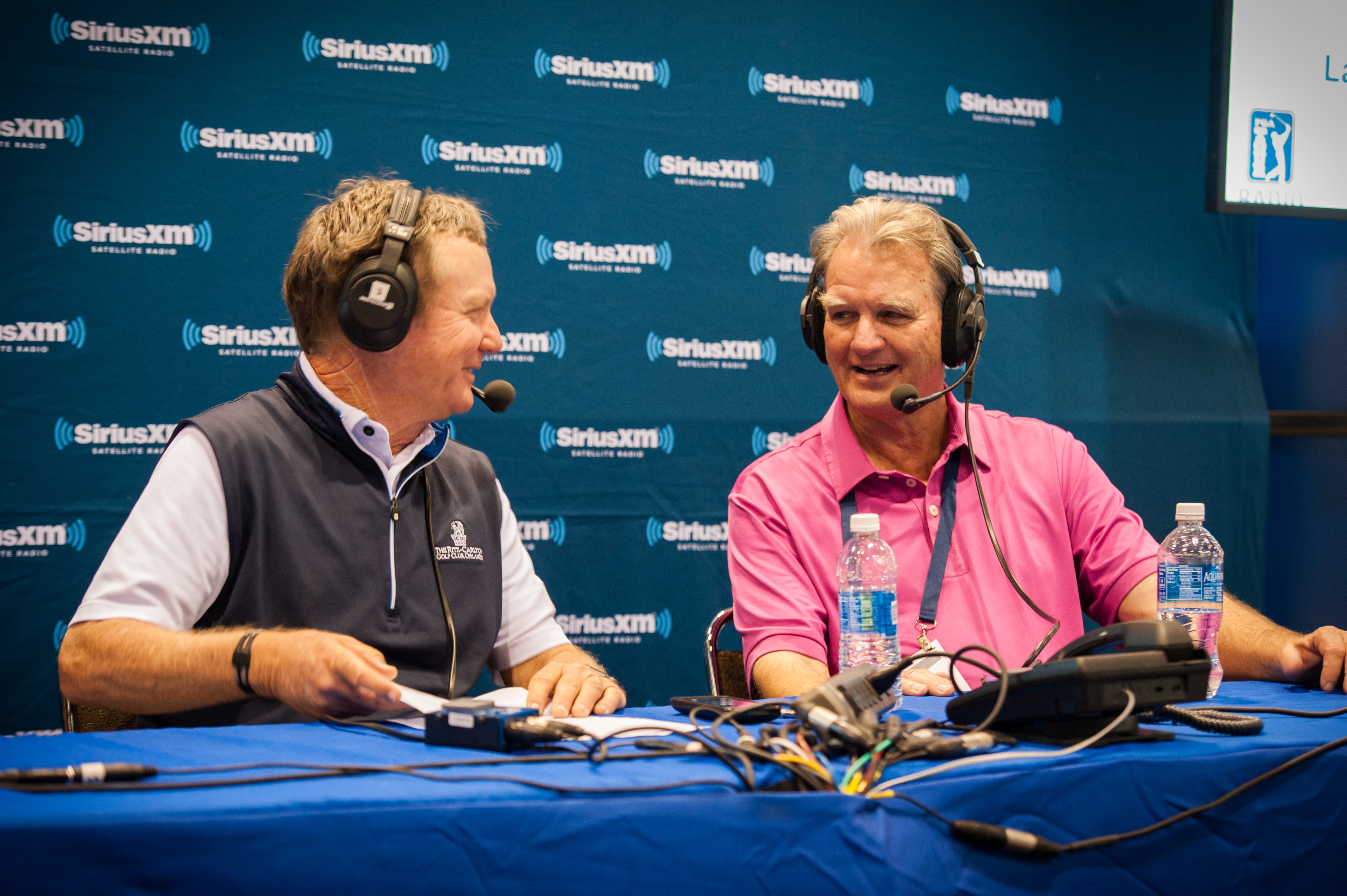 Larry, the radio host and commentator.
Since 2013, I have hosted a show, Rinker's Golf Tips on SiriusXM PGA Tour Radio, Saturdays and Sundays 9:00-10:00 am EST. Sirius 208 XM 92. I have special guests on each show which has included Bob Toski, Lee and Laurie Rinker, Sean Foley, James Leitz, Rudy Gatlin, Edwin McCain, Dr. Bob Winters, John Elliott, Tom Stickney, Mike Bender, Brian Manzella, Peter Jacobsen, Nathaniel Crosby, Brian Moog, Dr. Morris Pickens, Billy Harmon, Chuck Cook, Randy Smith, Don Sargent, Darius Rucker, Gary McCord, David Orr, Todd Anderson, Deane Beman, Tom Jackson, Mitchell Spearman, Johnny Miller, Laird Small, Tom Patri, Mike Adams, Bill Davis, Buddy Alexander, and Donnie Hammond… I have worked for ESPN, Golf Channel, and USA Network on the PGA Tour, Nationwide Tour, and Champion's Tour. From 2008-2010 I worked 28 events for SiriusXM PGA Tour Radio covering the PGA Tour as an analyst and on-course correspondent.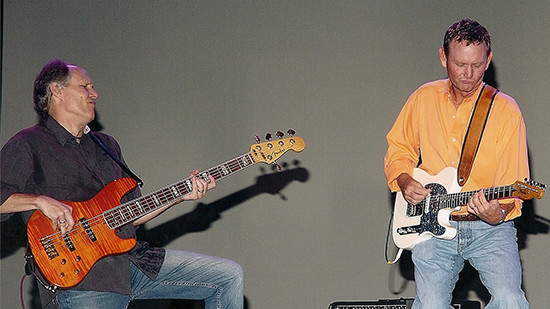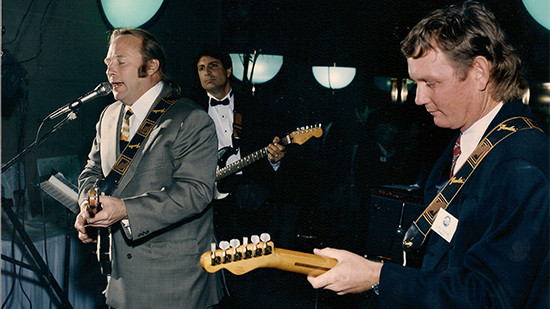 Larry, the musician. 
I started playing the guitar when I was eight and continue to work on being a better player. It was fun playing the Tour and getting to know some celebrities through this great game. I remember the first Bob Hope Classic in 1985 and playing with Joey Bishop and Glen Campbell. At Pebble Beach my partners have included Glen Campbell, Johnny Mathis, Kenny G, and John O'Hurley. Always a treat for the pros on the west coast swing to play in these tournaments and meet new friends.
Through the years I have met many great musicians and have sat in with Stephen Stills, Vince Gill, Hootie & the Blowfish, Edwin McCain, Harvey Mason, Bob James and others. On April 15, 2010 I sat in with Stephen Stills on seven songs at the House of Blues in Orlando, FL. I currently play at the Vail Church in the summer and have played and sang with the Worship Band at the Drive, Celebrate Recovery, and  Saturday night service at First Baptist Orlando.
"Larry's a great guy, just a great guy. He plays real good guitar. Anytime I get together with Larry, it's a great time. I really look forward to it."
– Stephen Stills, Singer, Songwriter, Guitarist